My name is Austin Topkis, and I am a soon to be graduate of Blind Brook High School. I have been working alongside Marla acting as the manager of her business' profile on various social media platforms. On the first day of the internship, Marla and I set some goals that were to be completed by the end of the intern experience. These goals included:
Increasing followers across all platforms (Facebook, Instagram, and Twitter),

Create a content calendar through July and post daily on social media,
       I took on an avid role in all of these functions and feel that I helped make 123organize a better known company. Local businesses thrive best when they get their name more widely known through word of mouth. For this reason it is essential that 123organize maintains a steady posting system for social media to ensure that there is constant public buzz.
        In addition to running the social media profiles, I also assisted Marla's clients in staging and organizing their homes. At one of these clients' houses I had an experience that was particularly meaningful. I was helping organize a women's patio in a house in Rye. I showed up to the house prepared to take on the daunting task of moving chairs and couches, tables, and oversized decorative vases. On the hottest day of the year I began to sweat as I moved the furniture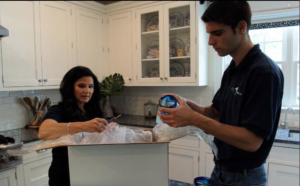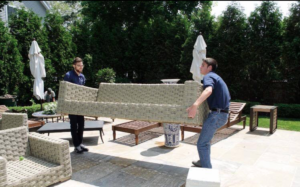 with Marla's son, Ben, and his girlfriend Alana. A photographer then snagged some pictures of the newly furbished patio. We then proceeded to have a photoshoot of staged sample shots of the 123organize team packaging and organizing this house. After the photoshoot, I felt fatigued from that day of hard work. As we were about to go back to Marla's house to continue our work for the day Marla said we should stop at WholeFoods for lunch. When we got to the supermarket Marla told me to get whatever I wanted to and that lunch was on her. It felt good to have my hard work recognized and to have Marla appreciate my company and time spent with her each day.
             While working with Marla was, at many times, fun, there were also certain aspects of the internship that I found particularly challenging. For instance, one of my responsibilities was to compose the template e-mails for realtors and movers. I have always been uncomfortable communicating over e-mail and had not known the proper tone to take when writing a professional one. Marla heeded my concern and together we sat down and took the time to type up the sample e-mail. Marla made me feel comfortable asking for help if there ever was a time that I was confused or struggled as in this case. As a result of this experience I feel that I have become better at time management and juggling different responsibilities. Ironically enough, working for an organization company has, in fact, made me a more organized person. Since I had multiple responsibilities to handle at once I created a checklist in my phone whenever I was assigned a task. This method of organization was one that I found very effective and will continue to do in the future. My time at 123organize has been a worthwhile and enriching experience that I, as a high school student, will never forget.