Getting Organized and De-Cluttered In Your Daily Life as a Retiree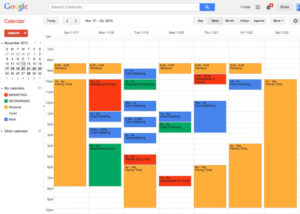 In regards to everyday life, people who retire aren't used to being together, as funny as that sounds.  It would be helpful to communicate the way they are used to communicating at work with their partner, like setting up electronic communication (ie. shared calendar) being detailed and specific.  Before you start to de-clutter your life, people need to be on the same page about what they are doing.  They need to set up and learn ways to communicate efficiently for everything from meals, banking, and downtime, to meetings and events.  It's really like starting over again.
At home they need to set up organizational systems that either partner can follow.   In the way they would apply them to the office, they also need to apply them to the house.  There need to be systems that function for one person, even when the other person is not home.  This might mean making new drawers or relabeling things. This can apply to meals and eating routines, banking, and finances.
Tips for Stress-free De-cluttering and Downsizing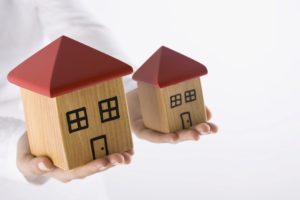 Prior to retirement, people are usually busy and don't take the time to de-clutter the home environment.  Particularly for children's rooms for kids who don't live in the house anymore, and other areas like sheds, basements, offices, and attics.  This is a good time to start to tackle these dormant areas that are filled with items that are no longer used or of value to any current or former household members.  It's especially important to rid yourself of any items that have been stored in your home for any family member or friend.  This is simply referred to as dead weight/negative energy.
It's best not to tackle these big projects all at once.  If this is something that feels completely overwhelming, then by all means, bring in a professional.  If you are going to take this on your own, then schedule time for you or your partner to work together.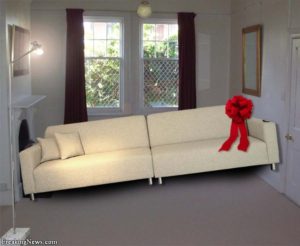 When downsizing to a smaller home, the biggest challenges are determining what furniture will work in your new space, and what won't fit.  For the furniture that won't fit, begin with friends and family members to see if anyone is interested in the furniture to pass it on, so you can de-clutter by redirecting.  This prevents you having to find a way to discard or remove an item from your home, if you know of someone who will take it away for you.  Some pieces you can try to sell.  Do know ahead of time that the market is primarily interested in modern pieces, and/or functional furniture.  You may consider having an estate sale; however, understand this to be a means of lightening your load vs. a money maker.  If you have a local charity that is willing to pick up small items, this could be the way to go.  Then you could claim a tax write-off.  Word of advice, no one wants used mattresses!  Be sure to do a lot of measuring of your new floor plan, and be precise!  Any extra inch can turn out to be a big challenge that you would certainly want to avoid.  Be realistic and bring in extra valued opinions to determine the amount of stuff that you will be able to access and store in your new home.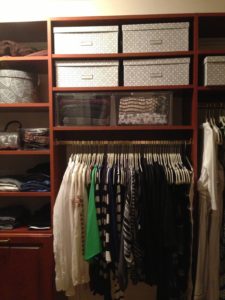 When you are tackling any big project, the best thing to do is to make a plan and break it down into bite size pieces.  When people try to take on more than they can chew, especially when they want to de-clutter, they can burn out too quickly.  It is incredibly valuable to have any sort of help when going through this.  This can be anyone from a friend, family member, housekeeper, or even a professional.
It can feel like an incredibly positive accomplishment to de-clutter and rid yourself of unnecessary objects in your home, though don't feel discouraged when you are trying to work as a couple or on your own.  Many times people need to bring in outside help to achieve the best results.
Closet Cleanliness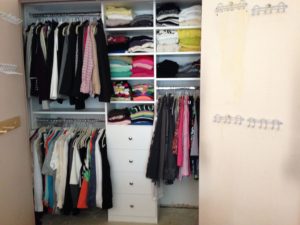 The first step in a closet de-clutter is that the closet needs to be completely cleaned out and purged.  Start by taking all of one category (ie. black pants: leggings, jeans, capris, dress pants, etc.), putting them all together, and only keeping the ones you truly love and wear.  It is helpful to feel the materials to assist you in this process.  Only put clothes back that you really get use out of and will continue to wear.  Continue with each type of clothing in this way.  This is a great time to actually clean the inside of your closet, something that people rarely get a chance to do.
Second Opinions
If you are struggling with getting rid of old sentimental items, it can be helpful to bring in an outside valued second opinion, even if it your spouse or friend or family member.  If you are having a hard time getting rid of objects that belonged to your child, have your child come and decide what items they want to keep, and perhaps have them take them home with them.  Many people find it helpful to take pictures of sentimental items before they donate them, so they can still keep a memento.
When you have taken on the task of de-cluttering and lightening your load, you too feel lighter, better, and more energized in your own home environment.  So now get ready, and put together your own organizing plan to help simplify your life!